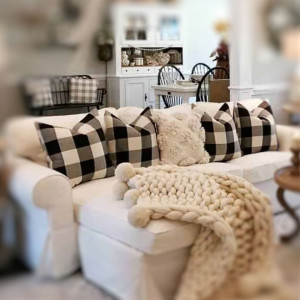 Our Gingham, Ticking, Plaid and Checked classic patterns are some of the most widely recognized and versatile textile designs in the world. They have been popular throughout history, across cultures and continue to be staples in both fashion and interior design.
These patterns complement our Rustic Farmhouse decorative throw pillow collection quite nicely and are also great together. Mix and match a variety of different pillow patterns and layer them for a truly inviting and cozy look. We feature a variety of different designs and color palettes that coordinate with many types of Farmhouse home decor styles.
Decorative throw and accent pillows are one of the easiest ways to create a new look in a space and by switching your sofa pillows a couple times a year, you can create fresh looks without breaking the bank!