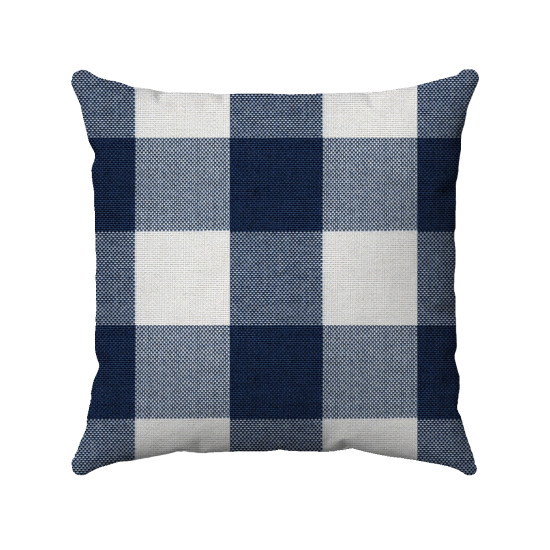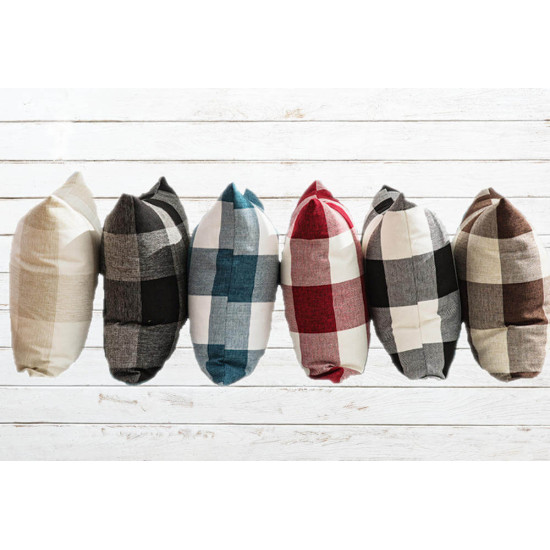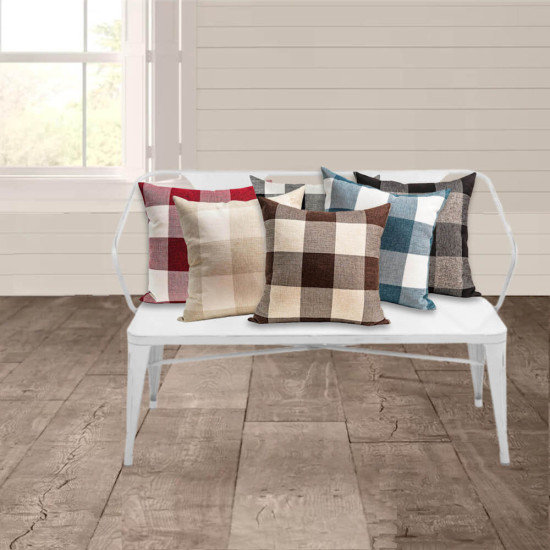 Hot -6 %



Buffalo Check Gingham Plaid - Blue and Cream - Reversible - Decorative Throw Pillow
Our Buffalo Check Gingham Plaid - Blue and Cream - Reversible - Decorative Throw Pillow features an attractive large buffalo check plaid pattern expertly printed on both the front and back of this charming decorative throw pillow. The traditional pattern fabric used in our buffalo check gingham plaid decorative throw pillow incorporates blue and cream in a dimensional crosshatch texture woven with linen cotton for that warm rustic farmhouse feel. These versatile pillows make use of symmetrical, overlapping stripes to form a checkered pattern that is the perfect choice to complement your modern or rustic farmhouse as well as many traditional home decor styles. Visually appealing and easily interchangeable, our buffalo check gingham plaid decorative throw pillows will transform any room in your home into a more sumptuous and inviting living space. This Buffalo Check Gingham Plaid - Blue and Cream - Decorative Throw Pillow is made from a thick and durable woven 100% cotton-linen blend and features the pattern on both the front and back with a hidden zipper closure at the bottom for easy insert placement or removal.
With origins dating back to the 1800's in Scotland, buffalo check plaid was originally brought to America in the form of warm blankets. Later popularized by Woolrich and traditionally red and black, buffalo plaid consists of two colored yarns woven in stripes to create large intersecting blocks.
Gingham Plaid's origin story is difficult to pin down due to varying information. Some sources speculate that the fabric now known as gingham may have been made at Guingamp, a town in Brittany, France, and that the fabric may be named after the town. The current equivalent in the French language is the noun ''vichy'', from the town of Vichy in France. Another speculation about gingham's origins is that the name came into English via Dutch. Others stories name Malaysia, India or Indonesia as the origin country where gingham was first made. When originally imported into Europe in the 17th century, gingham was a striped fabric, however, from the mid-18th century, when it was being produced in the mills of Manchester, England, it started to be woven into checked or plaid patterns. Checked gingham became more common over time and remains extremely popular in the textiles industry today. Gingham plaid patterns come in many 2 color combinations and are used to make fabric for clothing, accessories, home decor, linens and more.
Made of 100% Grade A cotton blend linen natural material.
Size: 18 x 18 inches
Pattern printed on front and back of pillow.
Hidden zipper design
Spot cleaning or hand washing (inside out) is recommended.
Pillow Insert Optional

Stock:

In Stock

Model:

RA-BUFFALO-PLD-BLUE-WHT-DS-PLW

Weight:

1.50lb

Dimensions:

18.00in x 5.00in x 18.00in

SKU:

RA-BUFFALO-PLD-BLUE-WHT-DS-PLW
Tags:
buffalo check
,
pillows
,
Gingham
,
blue
,
cream
,
plaid
,
vintage
,
old fashioned
,
farmhouse
,
double sided
,
Reversible